Welcome to my fairytale!
Threads of a Fairytale began from a love of two things: 1. Creating and 2. Gorgeous fabric. Oh and 3. The fact that I can't find the clothes I want to wear in shops. I didn't realise it at the time, but it all started when I was 15 and cut up and altered cheap clothes from charity shops and jumble sales; partly because I liked the shabby grunge style, and partly because I simply couldn't afford to buy new clothes (at least, not the ones I liked).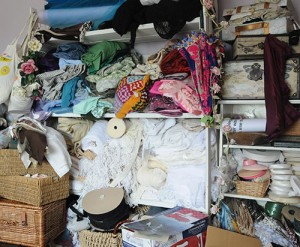 Since then I studied Art, Photography, English and Creative writing and had a teenage novel published. The book is set at Glastonbury festival, a place I love and fills me with inspiration every year. I used to save up money all year so I could buy my clothes from all the interesting stalls and wished there were shops that sold these clothes near where I lived. That is how my website www.JustABitDifferent.co.uk began. I enjoy the business of buying and selling cool clothes, particularly sourcing items from new designers and fair trade and British-made manufacturers, but it didn't fulfil my creative side. Why didn't I have a go at making my own clothes again?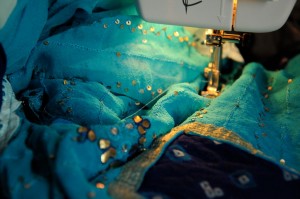 With no funds to buy rolls of new fabric, I looked into the idea of recycling and realised this could be my little contribution to lessening the landfill problem. Luckily, I am naturally a hoarder and already had a few bin bags full of clothes I hoped to fit into again one day, and clothes my kids had grown out or worn out of. Then for a donation to the nearby primary school PTA, I came home with a car full of jumble that hadn't been wanted after their sale. Nowadays I have a fantastic contact from whom I buy discarded Indian clothes. These are my favourites because they are often made of soft cotton or beautiful pure silk and the embellishments and decorations are just amazing. I also trawl vintage markets and fairs for lovely time-worn fabrics, Victorian corsets and antique lace and crochet. There is a real satisfaction in re-working these items into something new and hope to make the wearer feel beautiful in them.
As a child I watched a film called The Slipper and the Rose over and over again, sketching Cinderella's costumes. I am heavily influenced by historical fashions and fairytales. I also love steampunk styling and the romantic gothic. This means there are several different alternative looks to choose from in my shop. Please have fun browsing 🙂