I'm writing this part way into the Coronavirus lockdown, during which, if possible, people are working from home and learning that their usual outfits might need to change a little…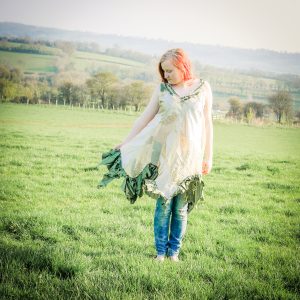 I don't know what it is, but for some reason, if you're out in public amongst other people, it's much easier to work in clothing that isn't all that comfortable, but at home, all those little niggles like a waistband that digs in; straps that fall down; an itchy label – they suddenly feel like an irritation you can't put up with.
I have always worked from home, but I haven't always had the art of dressing for it down to a tee. I used to do the school run in 'normal' clothes, and the minute I returned home again, I changed into tracksuit trousers and a baggy t-shirt. Come three o'clock, back went on the morning's outfit as if I'd been wearing it all day! The parents in the playground were none the wiser!
However, eventually I had enough of that, and I deliberately changed the way I shopped for clothes. Now, my number one question when I pick up an item of clothing is: Will this be comfortable enough for me to wear all day and stylish enough for me to see friends in? Here are some tips that might help you out if you're in the same boat:
• Always try the item on in the changing room. If there's a seat in there, sit on it and check nothing digs in round the waist. How do you sit at home? Cross legged on the settee? One foot under your bum? Try and emulate that and see if you'll be comfy. Bend over; wave your arms around and roll your shoulders – no-one can see you!
• Look for skirts and trousers with elasticated waists. Honestly – they aren't all frumpy! Pleated midi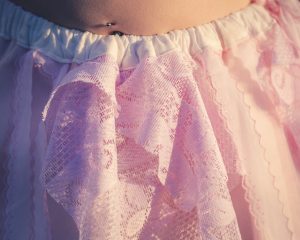 skirts, wide-leg culottes and linen trousers are good candidates for a comfortable bottom half.
• If you can't find elasticated waists, look for stretchy fabrics for your trousers. I'm in two minds about this one, because lycra isn't the most environmentally friendly material in the world, but a touch of it mixed in with cotton can turn what would have been restrictive into something with some give in it.
• With skirts, I always look for flowy fabrics with at least an a-line shape, but a half circle or flared skirt will give you more freedom. I definitely wouldn't choose a close-fitting denim skirt to work from home in.
• The top half of your outfit is much easier to be comfortable in, and as it's the item that will be seen for your zoom meetings, that's where you can stay more formal if you need to be. I don't think any boss would expect you to wear a blazer at home, but a cotton shirt would look smart and also be comfortable.
• If you're leaning towards looser casual tops, then look for details that make it stylish rather than a potential workout or gardening top! Embroidered details; lace edges; puff sleeves or even just a bright pattern will elevate your outfit and make you feel ready to take on the day.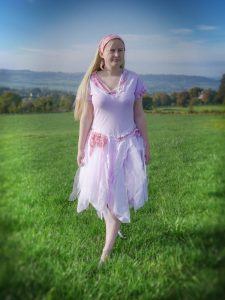 • Dresses are your friend. With no waistband to worry about, you can comfortably lounge sideways on your sofa whilst working on your laptop! Again, go with what you find comfortable – I personally avoid halter necks and 1950's style dresses as they are usually stiffer fabric and more fitted.
• Leggings are your best friend. I know they aren't considered the most on trend item of clothing, but they keep your legs warm, they are a hell of a lot more comfortable than tights, and (not the workout ones) are made of cotton, not nylon, so your skin can breathe. Perfect for under dresses, tunics and long cosy knits in winter.
• Jumpsuits may not be your friend. This is only conjecture as to whether this is different for you, but without a boss watching over me, I go to the loo fairly often in the day. Jumpsuits, boiler suits and playsuits are just too much of a faff for me to bother with!
What has been the biggest change in my wardrobe? Well I have almost completely ditched jeans. (I say almost because I have a couple of pairs that sit in the back, and very occasionally I do wear them.) In fact, I hardly own any trousers and am always on the lookout for a nice-looking pair with an elasticated waist!
The other thing to be aware of is the fabric of your clothing if you own cats! They'll be delighted you're at home, if they're like two of mine, they might want cuddles throughout the day – which is fine until the second they want to get down and they think it's necessary to dig their claws in. Sadly, I don't bother buying chiffon or delicate fabrics any more, and if I do, they're strictly in the out-of-the-house section of my wardrobe!
If you're new to working from home, during the lockdown is the perfect opportunity to try wearing something different if you feel like you're stuck in a style rut. If you haven't already, if you'd like to sign up to my newsletter, you'll receive a free guide to dressing more creatively.