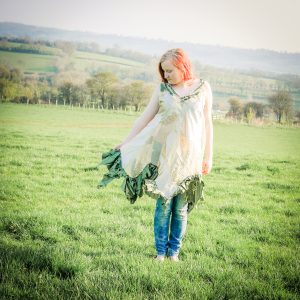 From now on we're called 'Threads of a Fairytale'. I just thought I would make my life a little more complicated than necessary and decide to change the name of my clothing business, which has been called Oshun for so many years, I can't even remember since when! I think I began late nineties / early noughties, so this is going to take a while to get used to!
Please bare with me for a little while as it's obviously going to take a bit of time to change everything. At the moment I'm having to appeal the change of name of the Facebook page, so that's why that is still saying Oshun. However the transition on Etsy was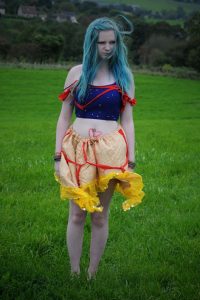 fortunately much simpler and my original Oshun Creations shop on there is now called Threads of a Fairytale. I hope it's not all too confusing! Also, of course, you may be wondering why the title here is still saying Oshun – well my programmer tells me that it's not as simple as just changing the wording of the title; it's made up as a whole picture. Therefore, if we're making a new picture for the title, now is the time to figure out logos and branding and all that sort of thing. This isn't something I want to rush, so look out for gradual changes. It is of course, lots of fun doing this bit!
One of the changes I'm looking forward to the most is dropping all the other Oshun Etsy shops (along with Oshun Creations, there's currently also Oshun Occasions, Oshun Costumes and Oshun Kids.) I think I've mentioned before how I'd planned on closing Oshun Kids anyway. All the handmade children's clothes will eventually be listed on the Facebook page. The vintage items from Oshun Costumes are on my depop shop, (soon to be sold off as a job lot) and the handmade items moved to the new Threads of a Fairytale (formerly Oshun Creations). Also, all the clothing and accessories on Oshun Occasions will move to the same shop on Etsy as well, under the category of Occasion wear. It will make it a lot easier for me to keep on top of updates and news; and a lot easier for you to see everything I make. I've honed my style of clothing over recent years and I think the shops will blend nicely together now.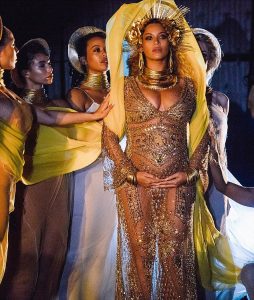 So, the reason why I'm changing the name? Well, there is one big thing that has bothered me right from the start of the existence of our Oshun business, and that is, very few people know how to pronounce it! It's simple matter, but a very annoying one! (So if you are thinking about naming a business, keep that in mind!) Even we pronounced it wrong for many years, saying it like 'Ocean.' You Tube didn't exist back then, so there was no way of hearing other people say it. It is in fact, pronounced Oshoon, if you were wondering! However since Beyonce played homage to the goddess Oshun in her Hold Up, Lemonade music video, and then again at the 2017 Grammy Award show performance, the name is better known. The flip side is, it has suddenly become massively popular and whereas we were originally the only ones with a shop in the world called Oshun, in the last few months, suddenly shops called Oshun this and Oshun that have popped up all over the place. I recently had to deal with someone who was blatantly copying the name along with materials and style of clothing, and although most of the other new Oshun shops are selling beauty products or jewellery, I can see how there might be confusion with us. I've talked more about this on my latest weekly vlog on You Tube.
So I thought, if ever was the right time to change the name of our clothing business, now is the time to do it. I've recently made a new collection of velvet cloaks which are about to be listed; a fairytale wedding dress; and have started a collection of raggedy pastel goth Cinderella-type dresses. I've got so many ideas in my head for fairytale clothes I want to make this year and I'm very excited to take my business forward with its new name, Threads of a Fairytale.