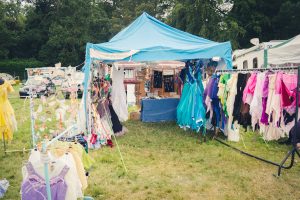 It is my main event of the year this weekend (14th-15th of August): I'm going to have my stall at the New Forest Fairy Festival!
It's such a lovely festival, so I really recommend coming along if you can. It's a daytime only event, so you can come either Saturday or Sunday, or both if you like! There's loads of entertainment included in your ticket price, including music all day on the main stage and in the acoustic tent. Find out more at the New Forest Fairy Festival website. All tickets must be booked in advance.
And of course, this will be your chance to see all my clothing in person and try things on! My stall is in the far right corner, behind the elemental dance stage, so please come over and say hello.
Whatever you're doing this weekend, I hope it will be a magical one. And if you can't come to the festival but would like to buy some fairytale clothing, please fly over to my online shop. 🙂