My husband and I finished all the photoshoots for the luxury velvet cloaks I've recently finished making as we have just had a lovely working weekend away in Cornwall. These cloaks are made with such beautiful soft cotton velvet, I just kept wanting to stroke them! If you are planning a wedding or handfasting and are looking for that extra layer to keep you warm then these fairytale cloaks are perfect for the occasion. Also, if you enjoy a bit of fancy dress (and who doesn't?), they are also ideal for a number of costumes such as historical medieval LARP or re-enactment; Pagan festivals; Renaissance Faires; The Hobbit and Lord of the Rings cosplay or Game of Thrones outfits. I've sewn a variety of colours so I probably have the right one to go with your dress or costume.
The new Poldark series is back on telly very soon, and what better way to celebrate than wrapping up in your own Demelza-style cloak! In fact, we actually took some of the photos at one of the ruined tin mines which was used as a filming location for Poldark.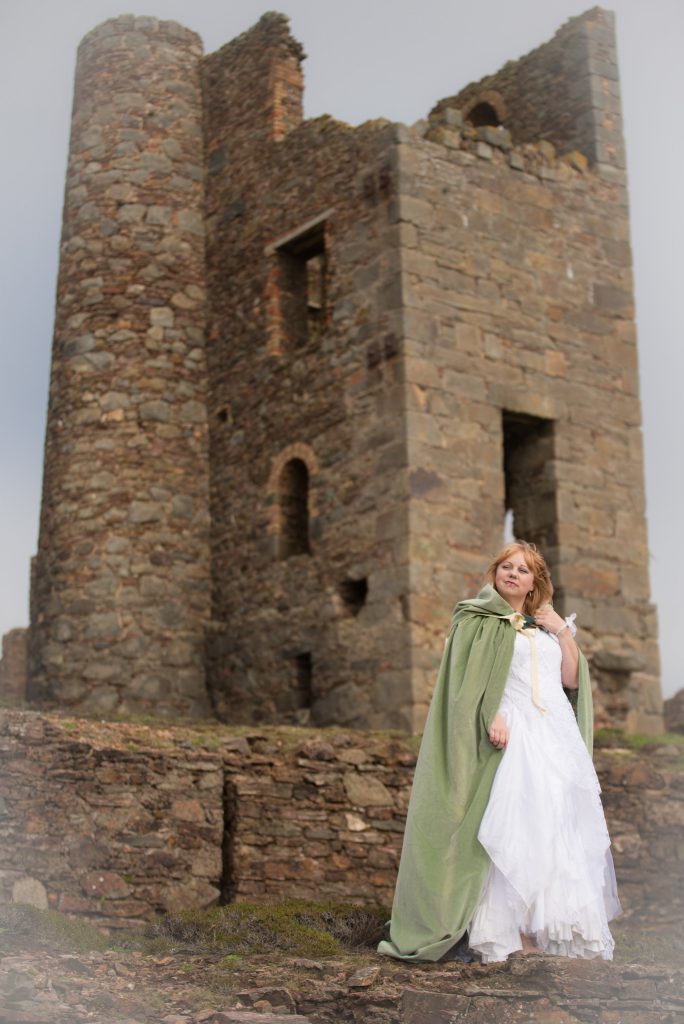 I still have a few to list, but please take a look at the OshunOccasions shop on Etsy to see all their details. So far the cloaks I have listed chocolate brown; midnight blue; pale dusky blue and this soft green cloak, but still to come are peachy pink and black.
Also, if you would like to see how I made the cloaks by using reclaimed vintage cotton velvet, please take a look at my latest YouTube video: (At the end I show how my handmade cloaks are different from the ones you might find in some shops – the size is adjustable; the material is heavy and warm and the seams are properly hidden.) Enjoy!