I'm always intrigued about behind the scenes of anything I don't know about. It's so easy to think we know what's going on, or to make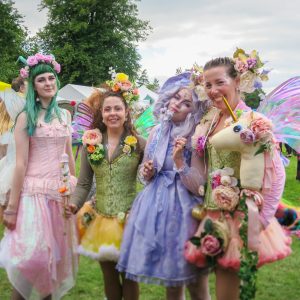 assumptions over what we're not being told; or just guess at what it's like to do something we don't do ourselves. We can go about our life and meet people along the way, and I always want to know what is really going on with what they do…
If you've been following my recent news posts and blog posts, you'll know I was due to have a stall at the New Forest Fairy Festival at the weekend, but with two days before setting up, we were told it was cancelled. And as the news began to sink in, I got more and more angry about it, because I didn't understand why. The rule of six had come into place two weeks previously and all was still on track to go ahead with all the possible Covid-19 safety measures in place. Really, nothing had changed, so why was the festival cancelled at the last minute? I've known Holly, the organiser, since the very first New Forest Fairy Festival, and it has always been run well – much better than some of the larger festivals I've had a stall at, so I couldn't help thinking there was something we weren't being told.
And then, a couple of days later, she put up a statement on the festival's facebook page, which reads as follows:
Please share far and wide
So this is what we have had to go through with the fairy festival in seven years. I hope this gives you all an understanding of what we have had to deal with……….
My story needs to come out to help every person in the event industry and to make a stand for what's right!
I have run a successful event for 7 years in Hampshire , this event is a well-being event for people with mental health, we support children with learning difficulties, through educational projects.
We ran this event on TENs notices which as you may or may not know is a soft touch licensing process where only the police and environmental health have to sign it off and can be turned round in as little as three days. Many events up and down the country run events on these.
When we applied for the following year the council forced us to apply for a premises license this was because of the "complaints" that they received. To get the premises licence I was instructed to implement a noise control policy which cost us in excess of £10,000 to put in place, along with traffic management plans, and all supporting documentation including various risk assessments and operational and event management plans. Instead of putting us on a annual license for the dates of the festival they issued a time limited premes license which meant I had to apply for an annual the following year.
Bearing in mind this is a family event that runs 10am-6pm still following ? Great next bit then!
The next year came and once again I had to apply once again for a premise license with the 28 day consultation period once more like all the other years just this time we applied for an annual license for dates for the second weekend in August.
In the back ground of all of this we had the parish council goading the district council to put even more conditions on our license which we ended up having to implement.
This year we were due to take place in August but with the restrictions on events due COVID we postponed the event. New regulations came in for events that with COVID SECURE measures they could take place as of the 13th July .
So on the 15th July I rang the council to say that we would look to run the event in September and could I do a variation on my license for the new date, they point blankly refused , which meant we had to apply for another license, a premises license. I submitted all documentation again including the extended measures of our operational and event management plans for COVID including a COVID 19 Risk assessment . In this time I spent the next few weeks talking and emailing various different departments of the Safety Advisory group including public health who all signed off my paper work.
The parish council used there powers to influence a senior cabinet member to not only obtain my paper work but for him to put representation in against my license application.
28 days past and the council notified me that 4 representations had been made and the application would need to go to a hearing.
I subsequently found out that I never needed to apply for a premise license and that I could run the event on a tens. I applied and obtained a tens as a back up for the event to continue, but out of principle and all the hard work that we had put in I knew the representations were thin and wouldn't stack up against my paper work so I continued with the application for the premises license as well, meaning a hearing date was set for 14th September . Two weeks before the hearing the council asked me to withdraw my premise license application which I refused to do as I knew that all representation would be thrown out.
In the weeks leading up to the hearing we made a freedom of information request to the council and other authorities for copies of all of the complaints received by them over the years that this festival has been running. The information which was received was infact there had never been one substantial or recorded complaint against the event.
Further investigation uncovered a string of emails between parish councillors and a senior cabinet member of the district council who had been ill informed and fed a pack of false information about the event , asking for assistance to have this event shut down.
This senior cabinet member of the district council used his position to obtain all of my supporting documents for my application.
Subsequently he made a representation against my license application on behalf of the parish council.
Two days before the hearing the council miraculously found three more representations which they included in the hearing.
During the hearing the subcommittee heard all representations points and views of the objectors and left the hearing to consider our application.
The following morning we received notification from the sub committee that the full premise license was granted with no restrictions. They also noted in the documentation they sent us that the representations made were not substantial and that I as the applicant took my management responsibility very seriously.
Due to ever changing legislation surrounding Covid we stayed in touch all departments, updating them and our risk assessments as required. In advance of the new rules this week, we had added amendments to our risk assessment and had sent this to the council and public health to review.
Last Friday, 8 days before the event was due to take place, we received an email from the council, including correspondence from Hampshire Public Health, stating that they were still happy for us to continue with the event with the newly added measures.
The new rules implemented this week for licensed venues meant we would have to have table service & face masks as those were the only changes that effected us and was easily implemented at the event as this was something we had considered anyway.
On Wednesday, we received an email from public health, categorically stating that the event 'must NOT go ahead'.
During a phone call to them, they apologised and asked if we were going to cancel the event.
Yes, was the answer as they had told us we could not continue in their email.
A following email from them informed us that they would write up the 'direction notice' which would make the closure legal.
We are still waiting for this closure notice.
During a telephone conversation with the director of pubic health this evening, it transpires that a direction notice will not be issued as we closed the event of our own accord after they 'asked' us if we would cancel. I told the director that the email we received, instructed us that we 'must NOT go ahead' under Covid law, which they now deny.
How they can do this is beyond me, but they are doing it and this needs to be exposed.
Anyone who would like to see a copy of any of the evidence or paperwork, I'm more than happy to show you.
The council have new powers and pubic health are using any excuse to do whatever they like, but just like us, they are accountable for their actions as a publicity owned company.
I hope this has giving some of you an insight to my own plight and I hope you will not take no for an answer.
I decided to post this as an insight to some of what goes on behind the scenes for a festival organiser – even for a small, two-day, daytime family event such as this. I had certainly not appreciated what Holly was going through, and am still baffled as to why anyone would be against the festival. I'd be interested to know behind the scenes of the councils and the public health authority, as I feel like something isn't quite right there and there's more to it. Anyway, I will be writing to the relevent people and telling them of the wider implications from closing the festival; not only taking away economy for Burley, the village it takes place in; not only the disappointment of all the people looking forward to it; but also the financial impact on the festival and all the independent stallholders who rely on it as a major part of their income.