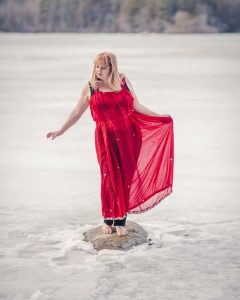 I've been prancing around and feeling silly for photographs for Threads of a Fairytale for several years now, but this particular photoshoot sticks in my mind. I wonder if you've ever been to New England in winter? Or does where you live always mean it snows every year and the lakes freeze over enough to play games of ice hockey? I've been fortunate enough to travel to Connecticut and New York state a couple of times in January and February and managed to squeeze a couple of the goddess dresses in my suitcase to photograph whilst there…
I'm so glad I did because I was amazed by the scenery, and it was great to make the most of it for the photos I needed for the shop. The only problem was, I hadn't packed any suitable footwear to go with the dresses. They suit sandals perfectly; or ballet flats, or trainers for a cool look; but I had only brought snow boots with me! So the only thing for it was to go barefoot! Passers by thought I was mad. And because the photos were meant to be showing the dresses clearly, I couldn't very well cover my arms with a cosy warm cardigan over the top either!
Pink dress, blue toes!
I have to confess to borrowing the slippers that were left for us at the air bnb we were staying at. I changed out of my boots on the river bank, and then slipped into the slippers to get into position and then hid them behind a rock! I put them straight back on after the photos were taken, but my toes were still blue for a while!
We were at a place called Burr Pond State park, and the first photos we did were tucked out of the way of the other visitors, down below a waterfall. We thought it would be sheltered there, but an icy wind blew across the river and it was freeeezing! I soon discovered that it's the wind that's the problem. If it's still, I can stand several degrees below zero, but not when there was a breeze! The sun shining was my saving grace.
A little later, when the ice hockey players had packed up, I changed into a red maxi dress and we went over to the lake the other side. This particular dress is now sold, but don't worry, I'll be re-stocking my shop soon with more dresses like this in lots of different colours. Just look in the Indian Summer Collection.
Walking on a frozen lake
For these photos, I had to get used to walking on ice – at least a little way out! This is something that you just don't risk in England, so it took a lot of hesitation and slow footsteps to reach the rock I was standing on. I was wearing those slippers again, so I had to be careful not to slip over too. I love the light in these photos. The number of hours of daylight we get to go exploring are small at that time of year, so at early afternoon the sun was already low in the sky and reflects on the ice beautifully.
Video footage of the day
I nearly forgot I'd filmed the day we did these photos, so I've made a mini video and posted it on the Threads of a Fairytale Instagram page. If you like it, please give me a follow over there!
Goddess dresses
I call these 'Goddess dresses' as they remind me of ancient Greek and Roman art of goddesses, but they are very versatile. Layer them over trousers in winter, or as a beach cover-up in summer. If you enjoyed the Netflix series Bridgerton, you might like to read this blog post where I've shown how you can tie the ribbons at the empire line, and wear with a cloak, and you've got yourself a Bridgerton costume!
Go to this section of the shop to find the sheer maxi dresses.